Researchers from Dell Medical School in Austin, Texas, are warning parents and caregivers not to toss babies and young children into the air in rooms with ceiling fans.
Some 2,300 children were treated in U.S. emergency rooms for head injuries between 2013 and 2021, according to a study published in the journal Pediatrics this month.
The most common injury was laceration — which affected 60% of the patients. Just under 10% had contusions or abrasions, 2% had concussions and less than 1% (three cases) had fractures.
MANY YOUNG KIDS ARE NOT GETTING 'LIFE-SAVING' VACCINES, STUDY FINDS: 'CONCERNING TREND'
The average patient age was 5, with spikes at less than 1 year old and at 4 years old. And children under age 3 showed double the risk of being injured when lifted or tossed into the air, the research showed.
The data came from ER records from the National Electronic Injury Surveillance System (NEISS) for patients under 18 years of age who were seen for ceiling-fan related injuries to the head, face, eyeball, mouth or ear.
Most of these injuries happened one of two ways, according to lead researcher Holly Hughes Garza, a research scientist and epidemiologist in the Trauma and Injury Research Center at Dell Children's Medical Center.
KIDS AS YOUNG AS 4 YEARS OLD CAN BEGIN TO LEARN MEDICAL EMERGENCY TRAINING: NEW REPORT
"The first is when lifting babies or small children into the air around a moving ceiling fan — and the second is when older children are using bunk or loft beds, or jumping or climbing on other furniture when it's too close to a ceiling fan and they get hit in the head," she told Fox News Digital.
In reading through hundreds of stories, the researchers found many similarities in how these injuries happened. 
"Consider awareness of ceiling fans as part of childproofing your home, just as you think about electrical outlets or sharp corners."
"A lot of the youngest kids were lifted in the air by a grown-up and accidentally hit by a ceiling fan," Garza said. 
"Sometimes these accidents happened when doing everyday things like lifting the child out of a crib or swing, but other times it was something playful like lifting or tossing the child up in the air."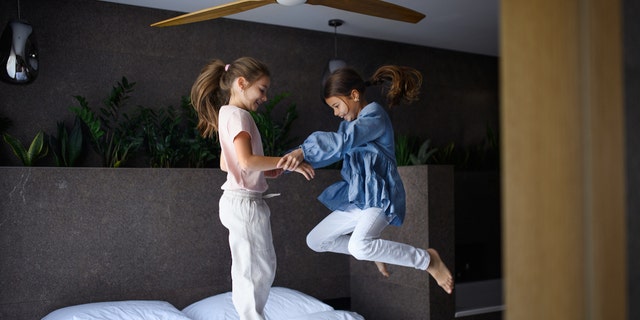 Eighty percent of the injuries occurred at home. 
While the majority of kids who came into the ER needed, at most, some stitches for a head laceration, there were rare cases of concussions and even skull fractures, Garza said.
Study had some limitations
The study did have some limitations, Garza admitted.
"This research only represents children who were injured seriously enough to go to an emergency room for care — so there are probably many more who get a bump on the head and don't require the ER," she said.
HEAD INJURY ASSOCIATED WITH DOUBLED MORTALITY RATE, 30-YEAR STUDY REVEALS
Also, the researchers were not always able to determine what type of fan was involved in the incidents.
"We had limited information on some details, like what type of ceiling fan it was and what speed it was running at the time of the incident," Garza noted.
The researchers were also unable to pinpoint the race, ethnicity, geographic location or insurance coverage of the involved families. 
Ways to prevent injury
"Our research is focused on how we can keep kids and families out of the emergency room by preventing injuries, but also when they do come in, how we can take the best care of them possible," Garza said.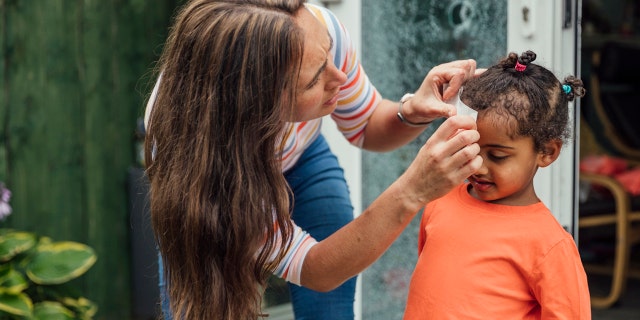 "It's important for families to understand that children can be seriously injured by ceiling fans."
The published study includes recommendations for policymakers and the U.S. Product Safety Commission to re-evaluate building and electrical codes, to consider adding warning labels to ceiling fans and/or bunk beds and to improve the quality and clarity of medical data reporting.
CLICK HERE TO SIGN UP FOR OUR HEALTH NEWSLETTER
Studies from some other countries imply that ceiling fans with metal blades are likely the most dangerous, and "can literally cut into a child's skull," Garza said.
"Thankfully, those fans don't seem to be super common in the U.S.," she said.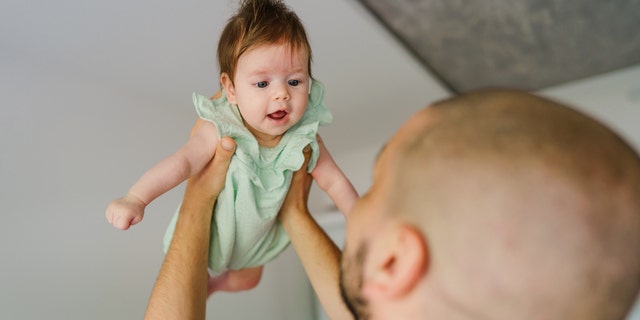 CeilingFan.com reports that the majority of residential ceiling fan blades are made from wood, veneers, plastic, and tropical materials like wicker or bamboo.
"Metal blades are found typically on any industrial or heat fan type … not recommended for standard ceilings or home applications to where anyone can reach the fan," the website states.
Parents should be aware "of ceiling fans as part of childproofing your home, just as you think about electrical outlets or sharp corners."
These injuries are "largely preventable," Garza said.
"One thing is just to be aware of the hazard and be cautious when lifting kids up above your shoulder level," she said. "It's also important to try and avoid placing tall furniture like bunk beds close to a ceiling fan."
CLICK HERE TO GET THE FOX NEWS APP
Dr. Shana Johnson, a physical medicine and rehabilitation physician in Scottsdale, Arizona, was not involved in the study, but urged parents to be aware "of ceiling fans as part of childproofing your home, just as you think about electrical outlets or sharp corners."
Earlier this week, it was reported that the Biden administration is "cracking down" on ceiling fans. 
The Department of Energy is proposing a rule that would require the fans to be more energy-efficient with the goal of saving on energy costs.
Source: https://www.foxnews.com/health/amid-ceiling-fan-injuries-kids-doctors-recommend-warning-labels-largely-preventable