A growing number of Americans are building immunity to antibiotics, which can make them more vulnerable to illnesses and infections.
There are about 2.8 million antibiotic-resistant infections per year, according to the Centers for Disease Control and Prevention (CDC), which cause at least 35,000 annual deaths.
And those numbers are likely an understatement, according to Dr. Marc Siegel, a professor of medicine at NYU Langone Medical Center and a Fox News medical contributor.
WHY ANTIBIOTICS MAY NOT HELP PATIENTS SURVIVE THEIR VIRAL INFECTIONS: NEW RESEARCH
"We don't always know that it caused the death, and we don't always diagnose it," he told Bill Hemmer and Dana Perino during an appearance on "America's Newsroom."
The World Health Organization (WHO) describes antibiotic resistance as "one of the biggest threats to global health, food security and development today," according to its website.
"I'm famous for saying the WHO usually over-exaggerates things, but in this case, they're right," said Siegel. 
"This is an enormous problem."
One of the biggest drivers of antibiotic resistance is the lack of any new medications in recent decades, the doctor said. 
'SILENT PANDEMIC' WARNING FROM WHO: BACTERIA KILLING TOO MANY PEOPLE DUE TO ANTIMICROBIAL RESISTANCE
"We haven't developed a new class of antibiotics since the late 1980s," he said. 
"The drug companies don't have an incentive to do this, because people only use antibiotics when they get sick, so there's not much of a profit margin."
Meanwhile, it costs $1.5 billion to create a new antibiotic, Siegel estimates, so the pharmaceutical companies are opting not to develop them.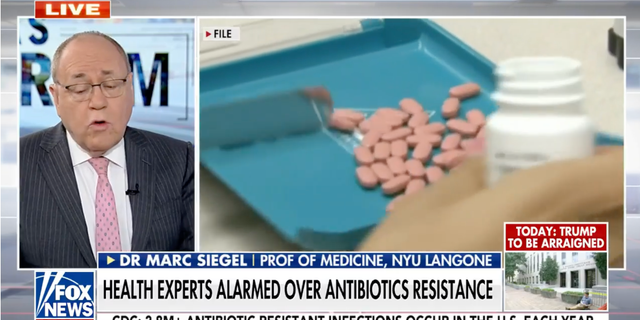 Another potential cause of the dangerous resistance is that farms are overfeeding antibiotics to livestock, said Siegel. 
The WHO recommends only giving antibiotics under the supervision of a veterinarian, and discourages using them to promote growth or to prevent diseases in healthy animals.
Another contributing factor is that doctors tend to overprescribe antibiotics, said Siegel.
"Every time we see someone with a sniffle, we're giving them a Z-Pac. That causes more and more resistance."
The CDC estimates that 30% of the time, antibiotics are overprescribed — but Siegel believes it's actually double that amount.
"Every time we see someone with a sniffle, we're giving them a Z-Pac," he said. "That causes more and more resistance."
There is pressure on doctors to write the prescription for antibiotics, even when it won't help, Siegel said.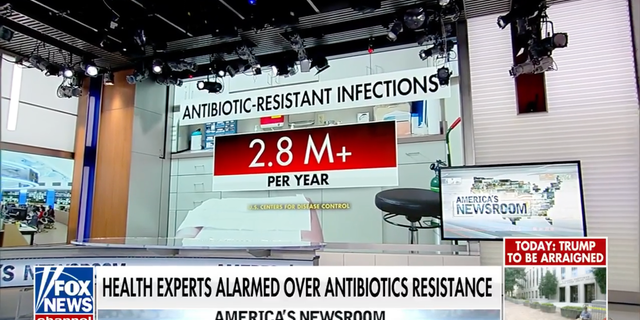 "Because they leave with a smile and a lollipop, versus me saying, 'You have a virus and you're going to get better on your own,' and they go home more miserable," the doctor said.
The pandemic also played a part in the worsening of the problem, he said.
"We missed a lot of this because we were so hyper-focused on COVID, and there was a lot of bacteria around then," Siegel said.
CLICK HERE TO SIGN UP FOR OUR HEALTH NEWSLETTER
On the bright side, doctors will soon have better tools at their disposal, he predicts. 
"We're starting to get rapid tests for bacteria, so we can do a little swab and find out in five seconds … and then we'll have more evidence on our side," Siegel said.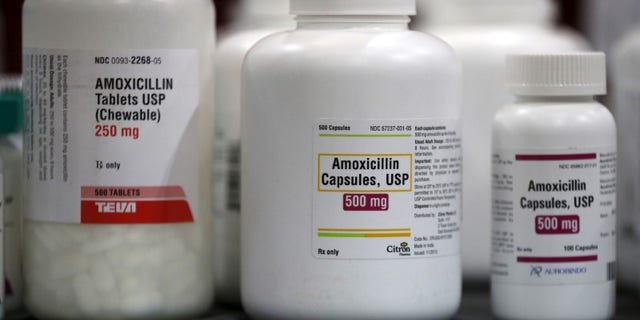 The Pasteur Act (Pioneering Antimicrobial Subscriptions to End Upsurging Resistance) has been in front of Congress since 2019, Siegel pointed out, but the legislation "keeps getting tabled."
While the doctor said he's generally "not for big government," he believes there needs to be some federal involvement in creating new antibiotics.
CLICK HERE TO GET THE FOX NEWS APP
"I remember all the antibiotics from my training days — they haven't changed, and that's troubling," Siegel said. 
"Almost every other thing I do is new, so I have to relearn. But with antibiotics, it's the same old stuff."
He added, "Bacteria is mutating, and we're not mutating our treatments."
Source: https://www.foxnews.com/health/antibiotic-resistance-rise-doctor-warns-enormous-problem