Previous studies have shown that drinking moderate amounts of alcohol might have some health benefits — but a new study published in JAMA Network Open suggests that might not be the case after all.
Researchers from the Canadian Institute for Substance Use Research at the University of Victoria reviewed 107 studies published between January 1980 and July 2021 that involved 4.8 million participants. 
They found that drinkers who consumed less than an ounce of ethanol — the form of alcohol found in beer, wine and liquor — showed no significant increase in lifespan compared to non-drinkers.
TEENAGE BINGE-DRINKING: WHY IT'S SO DANGEROUS FOR YOUNG PEOPLE TO OVERINDULGE IN ALCOHOL
In the U.S., a standard alcoholic beverage contains about half an ounce of ethanol. 
That means one ounce would be equivalent to what's in two 12-ounce beers, two five-ounce glasses of wine or two one-and-a-half ounce glasses of distilled spirits, per the National Institute on Alcohol Abuse and Alcoholism.
"The paper provides further evidence that the idea there are health benefits from moderate alcohol use is not based on strong science," said lead researcher Dr. Tim Stockwell, a professor at the Canadian Institute for Substance Use Research, University of Victoria, in an email to Fox News Digital.
A surprisingly large number of studies in the review contained serious errors, the doctor noted — for example, 86 out of the 107 studies classified former drinkers as abstainers, he said. 
"The idea there are health benefits from moderate alcohol use is not based on strong science."
"These studies make people who continue to drink appear healthy by comparison with people who stop drinking for health reasons," he said. 
"Doctors should not advise their patients to drink for health reasons."
'No amount of alcohol is good for you'
Dr. Chris Tuell, clinical director of addiction services at the University of Cincinnati College of Medicine, was not involved in the study but said the findings were not surprising.
"No amount of alcohol is good for you," he said. 
DRINKING MAY SHRINK THE BRAIN EVEN IN MODERATE AMOUNTS, STUDY SUGGESTS
"The studies that have indicated that one or two drinks can prevent strokes are not true," the doctor stated. 
"Blood pressure and stroke risk rise steadily the more alcohol people drink."
The effects of alcohol use are impacted by many factors, Dr. Tuell noted. 
Those include a person's genetics/DNA, the body's water content, the metabolism of alcohol in the body and any mental health issues.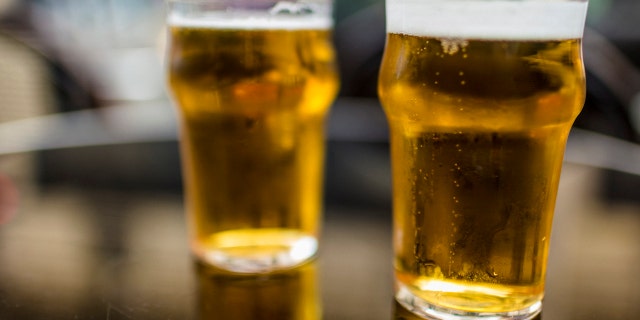 "A small amount of alcohol can be just as problematic for some people, especially if alcohol has been a 'go-to' coping mechanism for life stressors," he explained.
The doctor added that some people are more susceptible because of genetics, so the amount one person drinks could affect that person much differently than it would someone else.
Risk of excess drinking is higher for women
The new study also found that there was a "significantly increased risk of all-cause mortality" for females who drank one ounce or more of alcohol per day and for males who drank one-and-a-half ounces or more daily.
"Even though women drink less alcohol per day, their risk is greater."
"We do know that even though women drink less alcohol per day, their risk is greater," said Dr. Tuell. "Women absorb and metabolize alcohol differently than men."
He also said, "In general, females have less body water than men of similar body weight, so they achieve higher concentrations of alcohol in the blood after drinking equivalent amounts of alcohol."
Additionally, the aging process can impact how alcohol impacts the body, he said.
ANIMAL TRANQUILIZER MIXED WITH FENTANYL ROTS SKIN, TURNS HUMANS INTO 'ZOMBIES': 'THE WALKING DEAD'
"As people age, especially for women, there are changes in how the body metabolizes alcohol, much differently than when they were younger," said Dr. Tuell.
For example, the doctor said that reduction in body fat will allow more alcohol to enter the bloodstream, resulting in more potential problems with intoxication, abuse and addiction.  
Study had limitations
Although the research team used all available published studies on the topic of alcohol consumption's link to all-cause mortality, the lead researcher noted that most of those studies were "low-quality."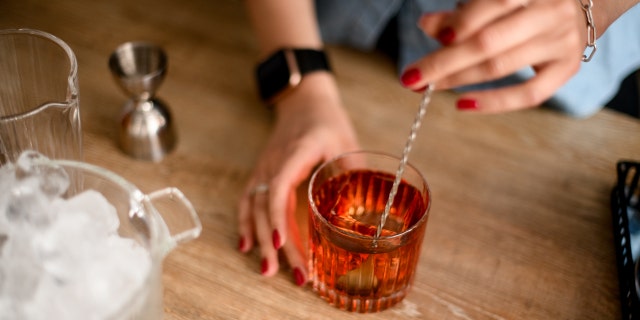 "This was a study of limited, mostly low-quality studies, and we could not remove or adjust for all the flaws they contained," Dr. Stockwell said.
He noted that stronger studies are needed.
CLICK HERE TO SIGN UP FOR OUR HEALTH NEWSLETTER
"These results should not be used to set low-risk drinking limits," Dr. Stockwell said. 
"They need to be based on outcomes from studies looking at specific alcohol-caused conditions, such as liver disease or certain cancers, not deaths from all causes."
The study was also self-reported — which could result in the misreprentation of some data, Dr. Tuell pointed out.
CLICK HERE TO GET THE FOX NEWS APP
"People will tend to minimize their use, just because they are being studied," he said. 
"Also, in the study, alcohol use was only assessed at one point. Multiple points, by the same subject, would have yielded a more robust study."
Source: https://www.foxnews.com/health/drinking-little-alcohol-every-day-wont-help-live-longer-new-study