An outbreak of avian influenza in birds that has led to the death and culling of tens of thousands of domestic and wild birds in Montana, has also infected at least a dozen mammals, according to a report. 
Since the end of March, a black bear, two grizzly bears, a red fox, two raccoons, and six skunks have tested "non-negative" for the virus by the Montana Fish Wildlife and Parks and the state Veterinary Diagnostic Lab, according to the Bozeman Daily Chronicle. 
The samples are then sent to a national lab in Iowa to be confirmed as positive. 
Experts believe the mammals were infected after eating dead birds with avian flu. There's no evidence it's spreading from mammal to mammal.
ONGOING BIRD FLU HAS COST THE GOVERNMENT AROUND $661 MILLION, ADDED TO THE CONSUMERS' PAIN AT THE GROCERY STORE 
This comes as China reported the first known human death of the H3N8 subtype of avian influenza. The animals tested posthumously in Montana had the H5N1 strain. 
A few other people who worked closely with infected birds have been infected with the virus, but they have all recovered. 
Animals in other states have tested positive for the virus as the outbreak enters its second year, including mountain lions in California, a river otter in Wisconsin and bobcats in Colorado, according to the USDA.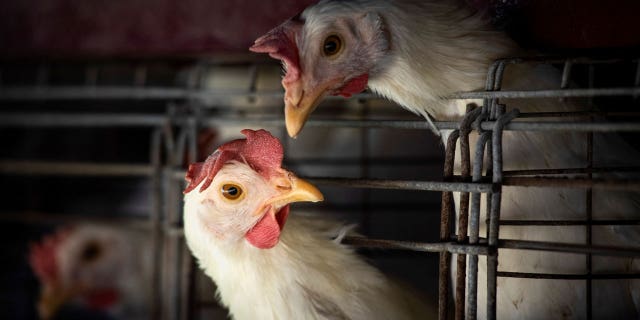 A dog in Canada was also infected and died, according to the Chronicle. 
The first case in a poultry flock in Montana occurred last April. The outbreak has killed 58 million birds so far across the country. 
Montana officials began testing animals thought to have rabies last fall after hearing of bird flu infections in mammals in other states.
COULD A BIRD FLU PANDEMIC SPREAD TO HUMANS? HERE'S WHAT YOU NEED TO KNOW
The symptoms for rabies and bird flu are clinically the same, clinical veterinary microbiologist Erika Schwarz, who works at the state lab, told the Chronicle.
"This outbreak and how long it's persisted is unusual," she said. "It's left a lot of scientists just baffled."
Jennifer Ramsey, a Montana Department of Fish, Wildlife and Parks veterinarian, said mammals being infected is "not something new," but during the last outbreak in 2014 and 2015 wild birds didn't die, meaning mammals couldn't eat their carcasses. 
"It's not something new — mammals have been infected with avian influenza viruses in the past," Ramsey told the Chronicle. "We just haven't dealt with it to this extent here before. It's concerning."
CLICK HERE TO GET THE FOX NEWS APP
She reminded pet owners to keep their animals away from dead birds. 
Source: https://www.foxnews.com/health/grizzly-bears-skunks-dozen-mammals-infected-avian-influenza-montana