A Los Angeles County community has been placed under quarantine due to the detection of the Tau fruit fly in the unincorporated area of Stevenson Ranch.
The California Department of Food and Agriculture said last week that more than 20 of the flies were found near the city of Santa Clarita. 
The adult Tau fly is around 7 millimeters in length and has a yellow body with black markings. Its wings have two dark stripes. It originates in Southeast Asia. 
The quarantine area measures nearly 80 miles, with the border extending to Castaic Junction, Oat Mountain, Del Valle and Honby Avenue. 
The department said it is believed the fly was introduced by travelers who brought uninspected produce into the state, which is a common path for invasive species. 
MYSTERIOUS ILLNESS TRIGGERED BY TICK BITE COULD AFFECT THOUSANDS, YET MANY DOCTORS ARE UNAWARE OF IT
"This the first Tau fruit fly quarantine ever in the Western Hemisphere," it explained. "The fly is native to Asia and is a serious pest for agriculture and natural resources, with a very wide host range, including numerous fruits and vegetables as well as a select range of native plants in California."
In order to prevent further spread, residents living in the quarantine area are urged not to move any fruits or vegetables from their property. 
COLORADO REPORTS ITS FIRST WEST NILE VIRUS CASE IN HUMANS THIS YEAR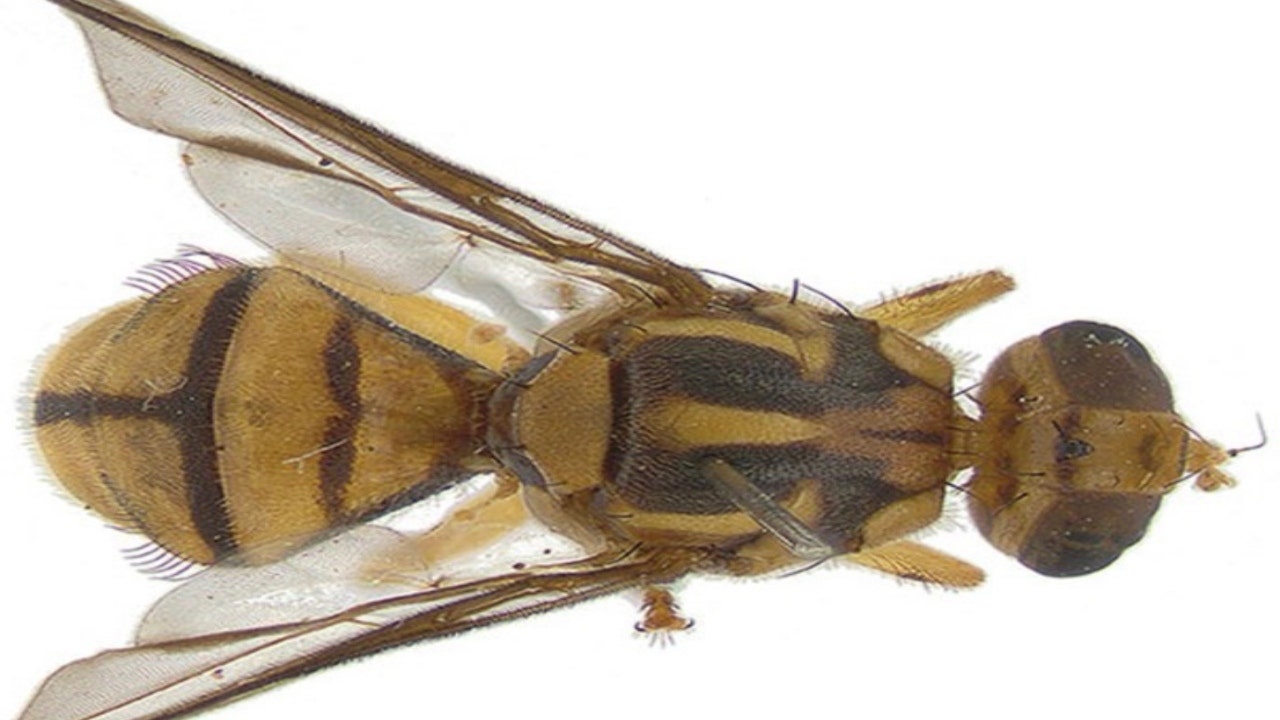 Fruits or vegetables may be consumed or processed at the property where they were picked. Otherwise, the department says they should be disposed of by double-bagging in plastic and placing the bags in a bin specifically for garbage. 
The department said it was working in tandem with the U.S. Department of Agriculture and the Los Angeles County Agricultural Commissioner to "utilize a multi-tiered approach to eliminate the Tau fruit fly and prevent its spread to new areas."
On properties within 200 meters of detections, staff will cut host fruit and vegetables to inspect for any fruit fly larvae that may be present.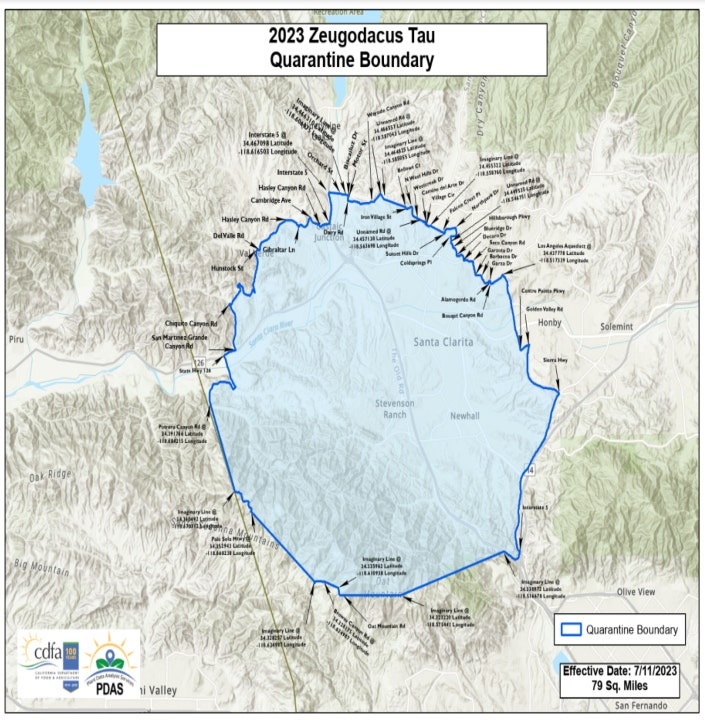 Those properties will be treated with a naturally derived organic-approved material known as Spinosad.
CLICK HERE TO GET THE FOX NEWS APP 
The material will help to remove any live adult fruit flies and reduce the density of the population.  
In a wider part of the treatment area, fly traps that incorporate a pheromone lure and "a minute amount of pesticide" will be used.
There were 6,426 households in Stevenson Ranch from 2017-2021, according to the U.S. Census. 
The first California detections occurred in San Bernardino County in 2016, and since that time, the department says three re-introductions have been delimited and successfully eradicated.
Source: https://www.foxnews.com/health/los-angeles-county-community-under-quarantine-invasive-tau-fruit-fly