The medication sold under the brand names Ozempic and Wegovy — semaglutide — has skyrocketed in popularity over the past couple of years. 
Ozempic was first approved in 2017 for the management of type 2 diabetes. 
After some people began using it for weight loss, it was approved in 2021 under the brand name Wegovy, which is intended for chronic weight management. 
Judging by studies and firsthand accounts, semaglutide appears to be working for weight loss. A 2021 study in The New England Journal of Medicine found that participants lost an average of 14.9% of their body weight in a 68-week period, compared to 2.4% lost without the medication.
ADDERAL AND OZEMPIC ARE IN THE SPOTLIGHT AMID WIDESPREAD SHORTAGES IN US
While semaglutide is intended for long-term use, some people may want or need to stop taking it after a period of time. There are some things they should know before they quit, however.
How semaglutide works for weight loss
The weight loss medication Wegovy works by mimicking GLP-1, a hormone that regulates appetite, according to the Food & Drug Administration (FDA). It slows down the digestive process, maintains fullness longer and decreases appetite. 
Additionally, GLP-1 helps regulate blood sugar levels in people with diabetes.
Although Wegovy and Ozempic are both semaglutides, Wegovy is available in higher doses, which means it can achieve faster weight loss. 
In clinical trials of Wegovy, participants lost an average of 15.8% of body weight over a 68-week period.
With Ozempic, the trials showed an average weight loss of 6% over one year.
"The products are not interchangeable."
"Although Wegovy and Ozempic both contain semaglutide, they are different products with different indications, dosages, prescribing information, titration schedules and delivery devices," Allison Schneider — a spokesperson for Novo Nordisk, the company that makes Ozempic and Wegovy — said in a statement to Fox News Digital. 
"The products are not interchangeable and should not be used outside of their approved indications," she also said.
Reasons people stop taking the medication
People who take semaglutide to achieve a healthy weight may decide to stop taking the medication when they reach their target goal.
For others, side effects may drive them to discontinue use. The most common complaints are nausea, vomiting, diarrhea, abdominal pain, constipation, heartburn and burping, as stated on the MedlinePlus website. 
WHAT TO KNOW ABOUT PRESCRIPTION DRUGS PROMISING WEIGHT LOSS
In rare cases, people may experience more intense pain, fainting or dizziness, rashes, vision changes, swelling, difficulty breathing or swallowing, yellowing of the skin and eyes, or rapid heartbeat.
The medication could also be cost-prohibitive in the long term. If insurance doesn't cover Ozempic or Wegovy for weight loss, the average monthly price is $1,430, according to Drugs.com.
People may need to stop due to side effects, cost or health issues.
"Sometimes people's insurance coverage changes — so what used to be $20 a month may increase to $200 a month, and that may not be in the budget," Dr. Adam Wolfe, an internal medicine specialist with University of Michigan Health-West Hospital, told Fox News Digital in an interview.
People should also stop taking these medications if they are pregnant or plan to become pregnant (or are breastfeeding or plan to breastfeed). The websites for both Ozempic and Wegovy state that the medications may harm unborn babies.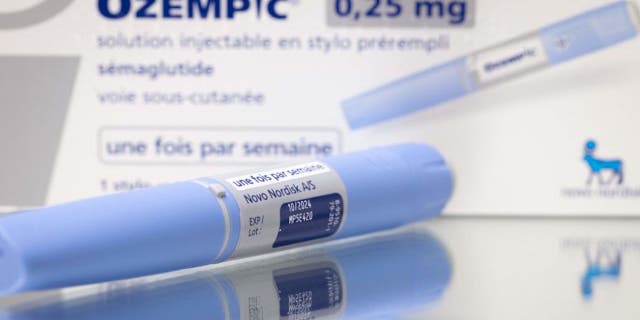 During a recent segment of "Fox & Friends," Fox News medical contributor and NYU Langone internal medicine specialist Dr. Marc Siegel spoke about his concern regarding prescribing a long-term medication regimen without knowing all the potential side effects and his preference for short-term treatments.
OZEMPIC FOR WEIGHT LOSS COULD BE DEADLY: IT SHOULD NOT BE 'GIVEN OUT LIKE CANDY,' DOCTOR WARNS
"I don't want to commit people to years and years and years of a drug that I don't know all the potential side effects about," he said. "I'd rather use it short-term if I can."
Schneider of Novo Nordisk told Fox News Digital that whether a patient stays on Ozempic or Wegovy long-term or short-term depends on individual health needs and the recommendations of the person's health care provider.
Risk of regaining weight
Dr. Wolfe said he prescribes both Ozempic and Wegovy for diabetes and weight management.
Regaining lost weight is a possibility when someone goes off the medication, he noted — particularly for those who don't have a solid game plan from a lifestyle standpoint.
"After stopping, the hunger comes back and the stomach starts emptying at a faster pace," said Dr. Wolfe, who specializes in bariatric care and weight loss.
Dr. Daniela Gamboa, who runs an integrated care/medical weight loss practice in Irving, Texas, agreed that when Ozempic or Wegovy is discontinued, the individual's appetite will increase back to baseline levels, making it harder to follow a lower-calorie diet to retain the weight loss.
ADDERALL AND OZEMPIC ARE IN THE SPOTLIGHT AMID WIDESPREAD DRUG SHORTAGES IN US
"This is also due to the phenomenon called metabolic adaptation, where the body tries to regain the weight it lost by slowing down the metabolic rate, increasing the hunger hormone and decreasing satiety," she explained to Fox News Digital.
A 2022 study published in the journal Diabetes, Obesity and Metabolism showed that one year after stopping semaglutide, individuals regained two-thirds of the weight they'd lost while on the medication. 
One woman's story of transitioning off medication
Arden McLaughlin, 44, owner of a public relations business in Charlotte, North Carolina, said she gained some extra weight last year after having surgery. 
To kickstart the weight loss process, she saw a board-certified nurse practitioner to get a prescription for Wegovy.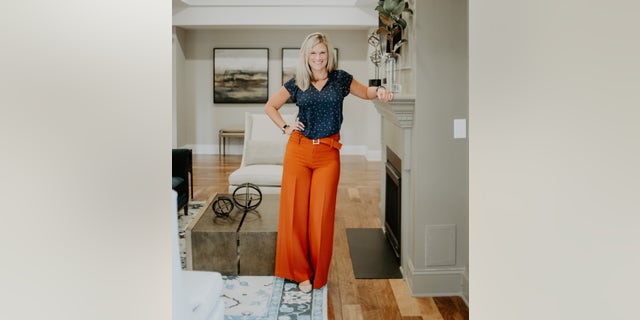 "I started the medication last September and lost 20 pounds in six weeks," McLaughlin told Fox News Digital in a phone interview. 
However, she ended up having to stop the medication abruptly.
McLaughlin has a history of eating disorders, she said — but because those tendencies had been under control for some time, they weren't on her radar as she went through the steps to get started with Wegovy.
"Instead of just not eating, I started eating the proper foods for my body."
But as she started rapidly dropping weight and losing her appetite, her old issues with food started to reappear.
"I started getting those thoughts again about how far I could take it," she said. 
When McLaughlin told her nurse practitioner about her disordered eating history, she was told she would have to stop taking the medication.
To maintain a healthy weight post-medication, McLaughlin focused on nutrition and exercise. 
KETO DIETS COULD INCREASE RISK OF HEART ATTACK AND STROKE, SAYS NEW STUDY
"While I was on Wegovy, it was hard for me to work out because it made me nauseous," she said. "But after I stopped, I was able to start going to the gym again."
Her regular hunger levels returned within a week, although she did notice that she got fuller faster, likely because her stomach had shrunk. 
"Instead of just not eating, I started eating the proper foods for my body," McLaughlin said. "I also monitored my calories with an app."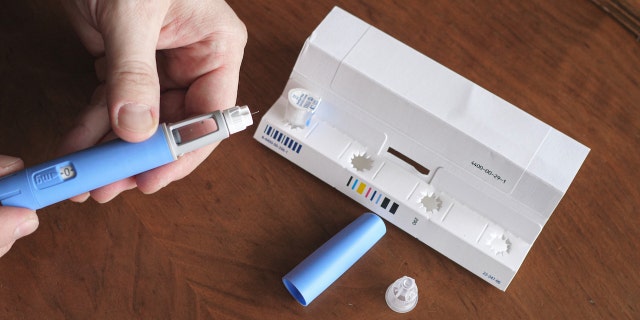 One thing she's noticed now is that some of her food tastes and cravings have changed. 
"Prior to semaglutide, I had a tendency to love fatty foods and sweets," she said. "I don't crave sweets, bread, cheese or salty snacks anymore. Instead, I find myself craving more fruits and vegetables."
Through the help of nutritious meals and gym workouts, McLaughlin has lost even more body fat and added lean muscle. 
"With the right plan in place, it's possible to maintain the weight loss without the medication."
For anyone who is looking to transition away from a semaglutide medication, McLaughlin said that from her perspective, it's important to plan healthy meals and have them prepped ahead of time. 
"I live alone and don't cook a lot, so I use a service that delivers nutritious meals each week," she said. "Otherwise, it would be too easy to slip back into the old habits."
MISSISSIPPI MAN LOSES NEARLY 400 POUNDS TO IMPROVE HEALTH, KEEPING PROMISE TO GRANDMA: 'SHE WOULD BE SO PROUD'
Overall, McLaughlin believes Wegovy helped her get on the right track of healthier eating habits and becoming more aware of what her body needs.
"Semaglutide was the jumpstart I needed, but I also had to gather a team around me to keep me going and help me figure out how to keep the weight off on my own," she said. 
"I think people may be afraid to stop because they think they'll regain the weight, but with the right plan in place, it's possible to maintain the weight loss without the medication."
A person's care team is important
While he said it's safe to stop taking semaglutide, Dr. Wolfe recommends that patients first meet with their care team to talk about specific lifestyle behaviors that can help with the transition.
"In my practice, people coming off these medications have the most success when they work with a multidisciplinary team," he said. 
That might include behavioral health support from a psychologist, nutrition support to put together meal plans and help with portion control, and an exercise program to ensure moderate activity on a daily basis.
"Whether patients take Ozempic for obesity or type 2 diabetes, this medication should be just one piece of a treatment plan that also includes healthy lifestyle changes and regular physical activity," said Dr. Gamboa. 
"These healthy eating habits should be continued even after stopping the medication to help maintain the weight."
CLICK HERE TO SIGN UP FOR OUR HEALTH NEWSLETTER
Dr. Jess Diller Kovler, PhD — bariatric psychologist for Northwell Health at Northern Westchester Hospital in New York and the chief psychologist for Well By Messer, a weight-loss-focused medical practice in New York City — has developed a protocol for patients taking this type of medication. 
"People should consult their health care provider before making any changes to their treatment plan."
It focuses on behavioral changes, emotions and shifting thought patterns around food, she said.
"To be successful long-term, one truly needs to learn skills and strategies around weight loss, and examine and work on emotion-based eating and learn new coping skills," she told Fox News Digital. 
CLICK HERE TO GET THE FOX NEWS APP
"In addition, to ensure long-term success, consult with a dietitian and therapist. It's not about just eating less — it's also about eating more healthful foods and tackling the emotional component," Dr. Kovler added.
Said Novo Nordisk's Schneider, "As with any medication, people should consult their health care provider before making any changes to their treatment plan or for medical advice about side effects."
Source: https://www.foxnews.com/health/weight-loss-medications-ozempic-wegovy-what-know-before-stop-taking-them